Pricing:
| Plan | Pricing |
| --- | --- |
| Standard Job Post | Free. |
| Sponsored Job Post | From $5.00 /day. |
| Hiring Campaign | Contact for quote. |
| Standard CV Database Search | $100.00 /mo. or $960.00 /yr.* |
| Professional CV Database Search | $250.00 /mo. or $2,400.00 /yr.* |
Review:
Indeed is one of the largest, most visited job sites in the world. The site attracts 250 million unique visitors every month and offers built-in skills assessments that employers can add to job posts.
One of the key features of the platform is the free job posting option. However, these job posts are replaced quickly and can easily lose visibility. Worth noting is that Indeed has received mixed reviews online, although it is still used by millions of employers and job seekers around the world and remains a top recruitment resource in the U.S.
Highlights:
Indeed is a well-established, popular platform that attracts 250 million unique monthly visitors.
The platform offers free job posting.
Clients can set their own budgets when choosing to sponsor a job listing. The cost will never exceed the budget that is set.
The site features built-in skills assessments to assist with candidate screening.
Indeed offers integration with companies' career pages.
The employer dashboard includes candidate and job management tools.
The platform features an extensive database of over 200 million resumes.
There are Android and iOS mobile apps.
Shortcomings:
Clients must purchase a monthly subscription to access the resume database.
The free job posts lose visibility.
Indeed does not offer email support.
Reputation:
Indeed is known for being the first place many companies go to post vacancies, but reviews of the company are mixed. Indeed has a 2.3-star rating on Trustpilot, a 3.8-star rating on ConsumerAffairs, and a 3.16-star rating on Sitejabber. Indeed is, however, accredited by the Better Business Bureau, which has awarded the company an A+ rating.
How to Post a Job on Indeed: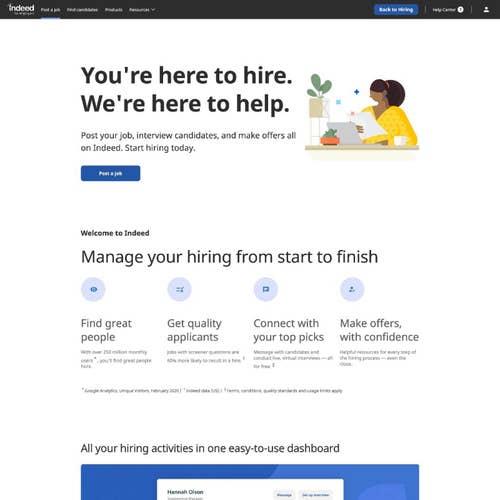 Fourteen easy steps for posting a job on Indeed.
1.
Posting a job on Indeed.
1.1
Click on "Post a job."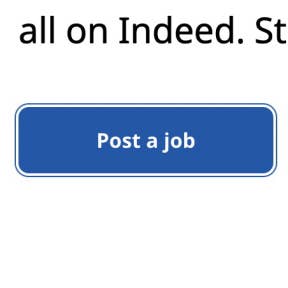 You'll need to create an employer account before you can advertise your vacancy on Indeed. Navigate to indeed.com/hire and select "Post a job" in the middle of the page to initiate the process.
1.2
Enter some basic account information.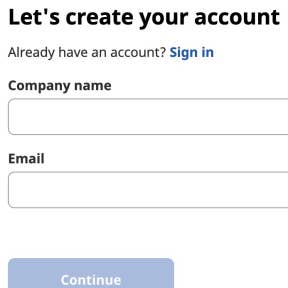 Provide your company name and email address. When you're ready, click on "Continue."
Note that the account verification process may take longer if you don't provide a business email address. The steps that follow will also look slightly different.
1.3
Provide some information about your business.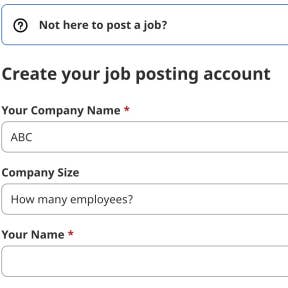 You'll be asked to include your company name, size, typical hiring budget, and similar details. You can also include a phone number. When you're ready, click on "Continue."
1.4
Enter basic information about the vacancy.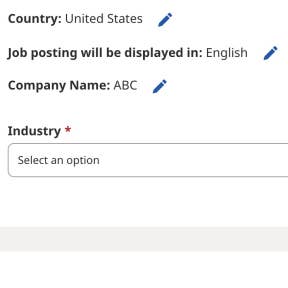 Specify the industry, job title, and location. Then, click on "Save and continue" toward the bottom of the page.
1.5
Specify the nature of the employment.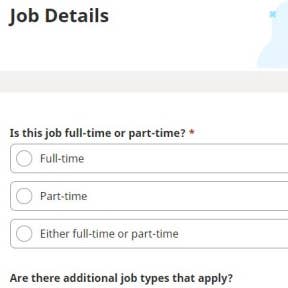 Indicate whether it is a full-time, part-time, or another type of post. Then, highlight how many positions are available and how urgently you need to fill them. You can also specify how many people you would like to interview. Once you've completed this section, click on "Save and continue."
1.6
Provide information about compensation.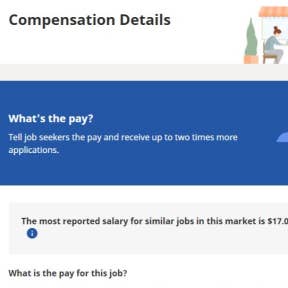 Enter a salary range, including tips, commission, or bonuses, if applicable. Then, click on "Save and continue."
1.7
Add a job description.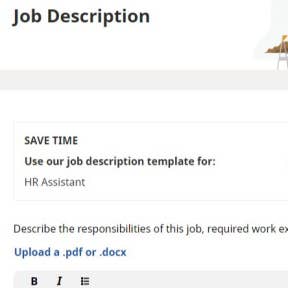 Create a job description that details the successful hire's responsibilities, training, skills, and experience. Once complete, click on "Save and Continue."
You can preview your job post at this stage by clicking on "View Preview" toward the bottom of the screen.
1.8
Configure your application settings.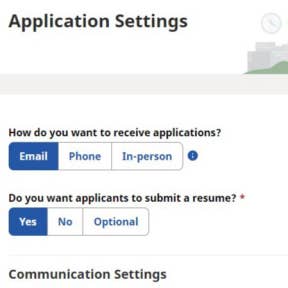 Specify how you would like candidates to submit their applications and whether they ought to submit a resume. Then, indicate where Indeed ought to send you daily updates about your job post and candidates.
Indeed's Employer Assist tool will help streamline the recruitment process by removing candidates who you're not interested in. You can set the time period for this. Then, click on "Save and continue."
1.9
Customize your prescreening criteria.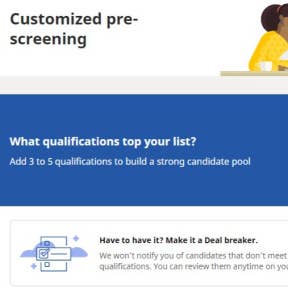 Set the educational and experience requirements to help Indeed prescreen the applications. You can also add some application questions and skills tests. Then, click on "Save and continue."
1.10
Preview your job advert.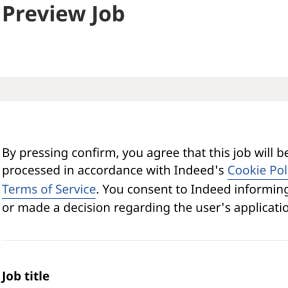 Click on "View Preview" toward the bottom of the page to see your job post. You can change any area of the advert by clicking "Edit" next to the relevant section. Once you are happy with the job post, close the preview and click on "Confirm."
1.11
Sponsor your job, if desired.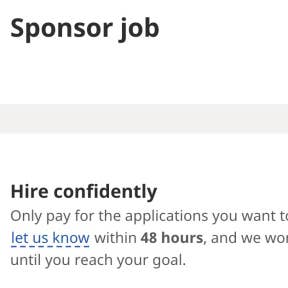 Indeed offers the option to sponsor job posts in order to boost their exposure.
You'll be able to set a goal for the number of applications you'd like to receive. If you choose to sponsor your post, click on "Save and continue," and then follow the prompts to make payment.
Click on "Post without budget" if you'd like to advertise your vacancy for free.
1.12
Sign up for Text2Apply, if desired.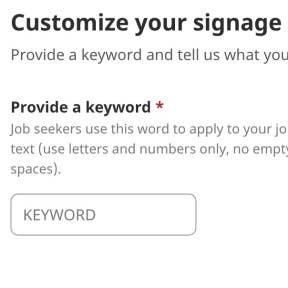 Indeed Text2Apply allows candidates to instantly apply for jobs via text. According to Indeed, the service can encourage up to 30% more people to start their applications.
Simply provide the keyword that job seekers should use to apply to your job, as well as your company name, important information that should appear on the signage, and your preferred accent color to help draw attention to the design. Then, click on "Review order" and follow the prompts.
Click on "Not interested" if you'd like to skip this step.
1.13
Provide proof of identity.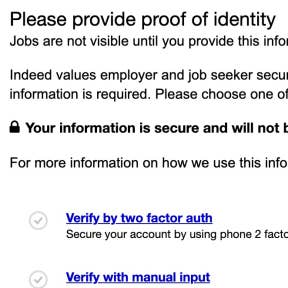 Indeed requires employers to verify their identity before posting their job adverts. You can choose to do so via two-factor authentication or by entering some information about your company manually.
1.14
Verify your email address.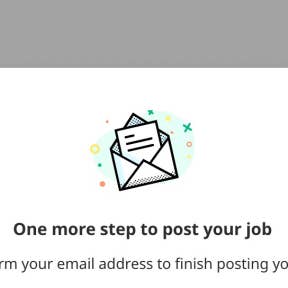 This is the final step in the job posting process.
Indeed vs. LinkedIn:
LinkedIn and Indeed are well-established sites that have broad reaches. Both are good options for finding new employees. However, Indeed is likely to reach a larger, more general audience, whereas LinkedIn is geared toward professionals. Read our in-depth comparison to discover the best option based on your needs.
Indeed vs. ZipRecruiter:
ZipRecruiter and Indeed are two of the largest job sites in the world. Both offer similar features as well as a wide reach. However, ZipRecruiter is the less affordable option in that it doesn't offer free job postings. Read our in-depth comparison to learn more about the distinctions between these sites.
Indeed vs. CareerBuilder:
CareerBuilder's posts start at $219.00 per month, and annual discounts are available. However, Indeed offers free and pay-per-click options. Between the two, Indeed has a significantly larger reach. The company also offers access to over 200 million resumes, while CareerBuilder houses over 80 million resumes.
Key Information
| | |
| --- | --- |
| Legal Name | Indeed, Inc. |
| Founder | |
| Founding Date | Jan 01, 2004 |
| Address | 6433 Champion Grandview Way, Bldg. 1, Austin, TX 78750 |
| Number of Customers | 3000000 |
| Telephone | |
| Website | |
FAQs:
How does an employer use Indeed?
What are sponsored jobs on Indeed?
Sponsored jobs on Indeed are listings that are given greater visibility because an employer pays for each click it receives. Sponsored jobs appear above and below free job posts and stay there so that potential applicants can see them even as they're scrolling through free postings.
Does Indeed charge for job postings?
Yes, Indeed charges for sponsored job posts that appear above and below free listings. Prices are determined by employers themselves, who set budgets. Clients can also choose to post on Indeed for free, though such posts receive less visibility. That said, Indeed is arguably the best free job posting site.
Are there other sites like Indeed for employers?
How much does it cost to post a job on Indeed?
Indeed offers a free job posting service. Sponsored job posts start at $5.00 per day for each potential applicant that clicks on the post. Employers set a total budget per day, as well as what they're willing to bid for each click from a potential applicant, so there's a significant amount of control over the potential cost.
Will Indeed post a job for me in multiple countries?
Yes, Indeed has a multilocation tool for posting, and they have active job boards in many countries. However, Indeed won't automatically advertise your job in other countries. After you've posted your job advert for a single location, edit it and click on "Post in multiple locations."
What is sponsored job posting on Indeed?
A sponsored posting is a paid job advert that is promoted on the site to attract more job seekers. Sponsored posts cost employers a minimum of $0.10 per click.
Is it free to post jobs on Indeed?
Yes, employers can post jobs on Indeed for free. Sponsoring the job may offer more exposure, but it's possible — and easy — to post for free.
How does Indeed compare to other sites?
We have detailed comparisons between Indeed and ZipRecruiter, Dice, Monster, and LinkedIn. View these to discover how the job board compares to its competitors.
How do I access Indeed assessments?
From your dashboard, click on "My Assessments."
Click on the assessment name.
How do I join Indeed?
Navigate to indeed.com/hire.
Click on "Sign in" in the top-right corner.
Select "New to Indeed? Create an account."
Enter your email address and a password.
Select "Employer."
Click on "Create Account."
Does Indeed charge to view resumes?
Indeed offers a free resume search option that allows employers to preview resumes. The full resume database is only available with a subscription that starts at $100.00 per month or $960.00 per year.
Is sponsoring a job on Indeed worth it?
While Indeed allows users to post jobs for free, such adverts tend to lose visibility over time as other, newer posts are added to the list. Sponsoring your job post is a good way to ensure that more people see your post.