1. Job Analysis:
The essential first step of recruitment is job analysis. Once you've decided to start recruiting for a vacancy in your company, you must first define that vacancy and, in so doing, define the ideal candidate for the position.
The job analysis informs what is to be included in a job description, determines what methods will be used to advertise the vacancy, and helps in the screening process of potential employees.
What to look for when doing a job analysis.
Tasks and duties specific to the job.
Processes by which the tasks and duties are performed.
Nature and conditions of the work.
Knowledge requirements.
Skills requirements.
Candidate attributes.
Other characteristics (soft skills).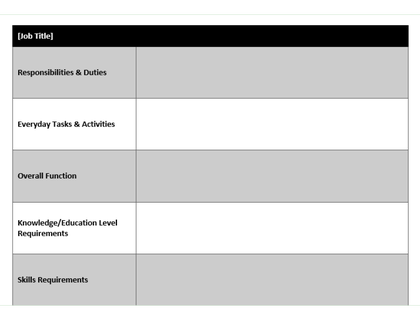 Free Job Analysis Template:
Use this free template to organize the information you have for any job under analysis.
Download
Three of the most common job analysis methods.
Observation: Watching employees currently in the position or similar position, and noting the tasks, duties, responsibilities that the job entails, the challenges and risks facing the employees, and finally the attitudes, skills, and methods they adopt to do the job effectively.

Interview: Ask employees in the position or similar positions a range of questions designed to get a better idea of how the employees see what their responsibilities are and what is required of them to do the job well.

Survey: Ask employees, superiors, and managers to complete a questionnaire designed to give a more rounded understanding of what is expected of someone in order to do the job well.
Once you have the information, use it to write a job description. You can use our job description templates.
If you are a part of a large organization, you may first need to put together a job requisition at this point, which is a formal request to fill a vacancy.
2. Sourcing and Attracting Talent:
This section is about reaching out in myriad ways to let people know you have a vacancy at your company and inviting them to apply for it. It is about making sure that your company is one people want to work for.
Recruit from within.
If you have a successful talent management strategy in place, then employee development is a major part of your company's culture, which means the ideal candidate for your new vacancy may already be among your employees.
Let your employees know there is an opening and encourage them to apply. Employee evaluations are also useful for identifying employees with the right skills and characteristics for the vacancy.
Letting your employees know of a vacancy has another benefit. Getting referrals from employees is a great way of recruiting your ideal candidate. Your employees already understand your company culture, know what the work environment is like, and have an idea of which of their acquaintances and friends might be perfect for the position. An employee referral program will encourage referrals, and a refer-a-friend email is a good place to start.
Use social media.
Increasingly, social media is the way people find jobs, so using social media to post job ads will improve the likelihood of reaching the right talent community and building your talent pool.
It is also a great way to build your employer branding through producing and sharing content that showcases your company culture and sets your brand apart from others in terms of places people want to work.
Maintaining a talent network on your company's career site offers you a way to stay in touch with potential candidates, keep them informed about new job opportunities, and fill vacant job positions quickly.
LinkedIn offers a lot of options for employers trying to connect with potential employees. According to LinkedIn, 90% of its 230 million members are open to new opportunities.
Creative and shareable job posts on Facebook or on Reddit will reach active and passive candidates. Make use of creative recruitment videos and attractive digital posters to grab the attention of viewers. These are great social media recruiting tools that have proven to be effective.
There are also many job boards one could use to reach potential employees. Some job boards are more general, but there are those that are regional or industry-specific.
Read these tips on social recruiting to learn what works best and to maximize returns on your social recruiting approaches.
Use job posting sites.
Post your vacancy on job posting sites. This is a great way to reach people quickly, but you should know that these sites vary in cost, reach, quality of candidates, and how long it takes before you start receiving candidate applications. Here are the best job posting websites.
A job description is not suitable for a job posting. A job posting focuses on attracting the right talent by highlighting your company's employee value proposition, things that would interest people like benefits, remuneration, company culture, development programs, etc., and not lists of requirements and qualifications. Use our job posting template to create an attractive job ad.
Attend career fairs.
Career fairs offer companies the opportunity to connect with large groups of qualified candidates, save money on jobs advertising, and build employer branding. There are a few ways to make the most out of the event.
Depending on what your hiring strategy is, select career fairs carefully. University and college career fairs, for example, are great for finding qualified, entry-level employees, but not experienced ones.
While they are good for connecting employees and employers, career fairs are also great for marketing a company. Before attending the career fair, make sure to have plenty of marketing materials like banners and pamphlets designed, and to invest in some promotional products and giveaways (keep these interesting and look for products that express your company culture), and bring business cards. The fair is also a great source of social media content.
Prepare a few questions to ask the candidates that visit your booth. You'll want to focus on role-specific questions, but asking the candidates questions about their interests, hobbies, and career goals, will help you get a sense of who they are and if they would be a good fit. Question them on what they already know about your business, too. This will help in the screening process, as it separates truly interested candidates from the lot.
Don't forget to take job application forms.
Host a recruitment event.
A recruitment event is a recruitment marketing strategy more companies are adopting to fill their talent pipelines in a way that promotes their employer brand and makes connecting with candidates more personal.
Tip: When using search engines to find the perfect candidates and their information, add Boolean Search Operators or Modifiers. These will help to broaden, limit, and define your search options.
Recruitment Events Ideas:
| Event Idea | Brief Description |
| --- | --- |
| Career Day/ Open House | Aimed mostly at new graduates, a career day allows candidates to see a company's offices, get a feel for daily life there, and meet current employees. |
| Expert Panel | An event that gives candidates and colleagues an opportunity to learn from knowledgeable experts on a range of topics related to specific fields. |
| Job Fair | An effective option for highlighting a number of positions, and for building an employer brand. Candidates are usually able to apply at such events, and there could even be 15-minute mini-interviews to kick-off the screening process. |
| Networking Event | An event where candidates and professionals can meet and interact with their peers. A good source of passive candidate recruitment. |
| Casual Mixer | A more casual networking event often held at entertaining venues, where people can make professional connections in a relaxed environment. |
| Competition | A competition designed to test the interest level, skills, and characteristics of candidates. These competitions often involve a task or project to be completed in a certain time, the winner of which could be a good fit for a certain position related to the competition project. |
Source directly.
While job boards, job ads, and career fairs are the go-to approaches for filling most vacant positions in a company, positions higher up in a company require a more active, aggressive approach.
While waiting for a job posting to catch the eye of a highly-qualified and experienced candidate, you could actively look for one among your competition and approach them directly should they fit the requirements.
According to a LinkedIn survey from 2015, only 30% of the global workforce is looking for a job. The other 70% consists of passive candidates. The survey also found that 87% of people are willing to move companies if offered a higher salary, professional development, and an improved work-life balance.
Build a career page.
A company's career page can either attract candidates and drive them to spend their time applying, or it can deter them from engaging the company any further.
Many company's do not invest in their career page. A list of vacancies without care given to the user experience or focus given to reasons why someone might want to work at your company will cause otherwise interested candidates to turn their backs.
Nine elements to improve your career page:
A clear and inspiring mission statement.
Definitions of ideal candidates.
Intriguing content.
An honest glimpse of the company culture, office life, benefits, and daily activities.
Job descriptions that clearly define roles and responsibilities, and strategic fit.
Easy and positive user experience.
The organization's core values.
Input from current employees.
The company's story.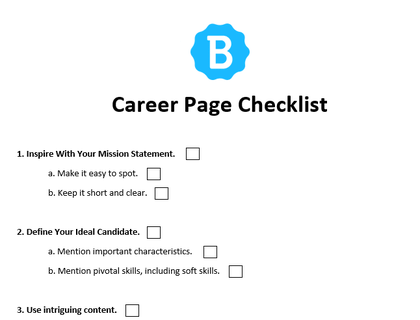 Career Page Checklist:
Use this career page checklist to turn your career page into a powerful recruitment marketing tool.
Download Now
Recruiting Tools:
There are software applications that recruiters use to gather and manage candidate information, find potential employees, search through profiles and resumes, contact candidates, and monitor hiring outcomes.
Avature tracks applicants, assists in campus recruiting, and manages employee referrals.

Hunter is an email finder software that verifies professional email addresses from domains and businesses and finds email addresses using first names, last names, and company websites.

LinkedIn can be used to search for great candidates. Companies can buy advertising on the site to promote vacancies.
3. Screening and Selecting:
This phase of the recruiting process is often the first really significant contact candidates have with your company. It is essential you make this part of the process a seamless and positive experience for candidates.
Research by IBM's Smarter Workforce Institute suggests that people are 38 percent more likely to accept your job offer if they have found your screening process to be a positive experience, and are more than twice as likely to promote your employer brand. According to Deloitte, 87% of candidates say the recruitment process can change the way they see a company.
Screen for the best candidate.
Now that you're receiving applications, you'll need to start reviewing them to identify the best candidates to start taking through your screening process. We have a screening process that works very well for us at Betterteam.
We start with a Thank You email. A Thank You email lets the candidate know that you've received their application and informs them of what to expect next. Check out our Thank You email and download our email template.
Review resumes fast, look to see that they have the minimum requirements. These should only be requirements that are absolutely necessary. Ignore everything else, it's just noise that can cause you to miss good hires due to biases, etc. You can use resumé parsing software to streamline this process.
Send a 5-question screening email that should take no more than 20 minutes to complete. If possible, one of the questions should test them on something specific they should know if they qualify for the job. People who aren't serious about the job won't respond to these questions. Look for people who respond well, and who obviously put in the time and effort to answer your questions.
Do a phone interview with the top responders. See our article on phone screening interviews for more info on this. You might also choose to interview candidates via video call. Here is a list of video interview software you can use.
For finalists, set up a final interview. Review resumes and then ask questions about any gaps or inconsistencies you find. Ask for numbers about specific claims (if they say they grew sales, ask by how much. Then come back to it again later and ask them the same question. You should get the same number if it's real). Be sure to review salary, schedule, etc.
If possible, set up an on-the-job test where they perform the actual work of the job, paid, for a period of time.
Read our articles on How to Interview Candidates and How to Be a Good Interviewer to brush up on your interviewing skills, and our Structured Interviews article will help you put an excellent interview together.
Essential Types of Interview Questions:
Before making your final decision out of the handful of candidates who have made it through to this far, you should do a background check, and employment verification on each of them, and have them do a pre-employment test.
Make the job offer.
Finally, your hiring process has brought to the surface the perfect candidate for the position. You can now send them a job offer letter, which will tell them all about the job including the start date, compensation, work hours, and job title.
Read our article on How to Make a Job Offer.
To make a good impression on unsuccessful candidates, promptly send them a rejection letter. A job rejection letter informs employees that they have not been chosen for a job in a formal and respectful way.
4. Onboarding:
Onboarding is the process of bringing a new employee into the company, introducing them to the company culture, and setting them up for success in their new role. Handling onboarding successfully will improve job satisfaction and performance, and it will lead to greater commitment.
Jumpstart onboarding.
The time between the new employee accepting the job offer and them coming in on their first day is a time that can be spent productively.
Send them a welcome letter. Not only is it a good way to get them excited for their first day, but it is also a way of informing them of what to expect so they don't feel too overwhelmed. You can include a timesheet and the job description, explain how the new employee fits in the organization, and then you can ask them to send through any questions they may have.
Have them fill in employee information forms and new-hire forms before their first day. This will save time and will allow you to focus on other aspects of your orientation process.
Show the employee the ropes.
Regardless of how many new hires you make in a year, a thorough, well-planned process will ensure you touch on all the necessary bases. Besides, it will bring new employees up to speed faster by making the tough transition easier.
A good onboarding process will familiarize the new hire with the business, show them how things work, establish early relationships, and help them adapt to the new culture.
Things to include in the process:
An introduction to team members and superiors.
A tour of the company.
Preparation of their work environment.
Introduction to new employee training programs.
And a few early goals for them to reach.
Read our New Hire Checklist article and download a checklist template.
Start training.
To give the new employee the skills and knowledge to start achieving early goals you've set for them, put them through some targeted, early-stage training.
Read our Training New Employees article.
You want to make sure the training is enjoyable and relevant to the new employee or employees. Then, in order to improve learning and to bring to the surface any areas in need of more focus, have the trainees complete a relevant task as soon as possible.
Tip:
Look for the latest trends in games to play during training sessions, and keep training fun. Don't let training at your company become a symbol of boredom.
On-the-job training is a powerful technique for training new employees. Set them a few early goals and then give them, through the training, the necessary tools and procedures for achieving these goals. Offer feedback as much as possible.
Mentoring is another great tool for training. Pair new hires up with exemplary employees so that they may watch how the work is done, see how others navigate challenges and witness the company culture from within.
5. Monitoring:
While crucial to optimizing recruitment operations, many organizations fail to monitor their hiring process to see which of their efforts worked best in attracting candidates, how long it took to employ someone new, and what it cost them to do so.
Monitoring your recruitment operations will help you to identify where you can improve the candidate experience, which approaches lead to the most, high-quality applications, and where you can save time and money when hiring.
Calculating recruiting yield ratios.
Companies calculate recruiting yield ratios to see how successful their external recruitment processes are. A recruitment yield ratio shows you what percentage of applicants go through each stage of the hiring process.
This ratio offers insight into where improvements can be made in your hiring process. If too few applications are coming in, you might need to rethink your job ads. If too many applicants are getting through to the interview phase, you might need to change the way you screen applicants.
It is also a ratio best done regularly and used in conjunction with other metrics for deeper insights. You would also then be able to see whether improvements are indeed being made.
Applicant Tracking Software helps to collect and keep all the data you need for calculating recruitment yield ratios.
Recruitment Yield Ratio Formula:
Recruitment yield ratio = Number of candidates hired ÷ Number of candidates who entered the hiring process
Example 1:
Overall, 250 people applied for a position at the company and, in the end, five were hired.
Recruitment Yield Ratio = 5 ÷ 250
Recruitment Yield Ratio = 0.02
You can see your Recruitment Yield Ratio for this example is 2%.
Example 2:
The formula can be tweaked a bit to calculate the yield ratio of each stage of the hiring process. Let's say 90 applicants received assignments during screening, and only 40 completed these assignments correctly on time and so went through to the first interview.
Recruitment yield ratio at stage n = Number of hirable candidates from stage n ÷ Number of candidates who entered stage n
Recruitment yield ratio at assignment stage = 40 ÷ 90
Recruitment yield ratio at assignment stage = 0.44
You can see the Recruitment Yield Ratio at the assignment phase of your process is 44%.
Example 3:
The first formula can also be used to compare the yields from different sources of recruitment. Let's say, out of 200 applications received from a recruitment agency, 7 people were hired. And, out of 150 applications received via a Facebook ad, 13 were hired. The two can be compared.
Recruitment yield ratio for recruitment agency = 7 ÷ 200 = 3.5%
Recruitment yield ratio for Facebook ad = 8.6%
You can see the yield from the Facebook ad is better than that from the recruitment agency.
Measuring source of hire.
Source of hire is a metric that identifies the most successful recruitment channel (staffing agencies, job boards, social recruiting, referrals, etc.) by showing the percentage of hires that came from each channel.
Tracking source of hire helps the company to focus its recruitment efforts and budget by allocating more funds toward more successful channels, and ceasing to use less successful sources.
Ways to measure SoH:
New hire surveys: questionnaires designed to reveal which channels brought in most of the hires.
Applicant Tracking Software: ATS tracks this data for you. SoH reports and charts can be printed.
Recruitment team reports: The recruitment team should be tracking applicants and can report back on the best channels.
Google analytics: By adding UTM links to your job ads you can track social engagement.
Tip:
When measuring your source of hire, don't only consider the people you hired but also include data from candidates who almost made the final cut.
Calculating cost per hire.
The cost-per-hire metric helps companies to see how much money was used in recruiting a new employee. Calculating the cost-per-hire allows you to budget for your next round of hires.
To calculate cost-per-hire, you need:
The total internal recruiting costs: these are the in-house costs of the recruiting process and include, for example, recruitment team salaries.
The total external recruiting costs: Money paid to external vendors and individuals during the recruitment process including software fees, job boards, staffing agencies, and background checks.
The total number of hires: essentially every person that went through the recruitment process and are now part-time or full-time employees.
Cost-per-hire Formula:
CPH = (Internal Recruiting Costs + External Recruiting Costs) ÷ Total Number of Hires
Example:
Over the course of one year, your company hired 10 employees. You paid $10,000 in recruitment team salaries over the twelve months. Let's assume this is all that constitutes your internal costs for this example. Your external costs came to $10,000 and included Applicant Tracking software for the year, Facebook ads, job boards, etc.
CPH = (10,000 + 10,000) ÷ 10
CPH = 20,000 ÷ 10
CPH = 2,000
You can see your cost-per-hire for this year was $2,000.
Calculating time to hire and time to fill.
Although "time to fill" and "time to hire" are often seen to be the same thing, the variables used to calculate each of the metrics are slightly different.
Time to hire measures how long it takes a company to hire a candidate, from the first contact to the signing of the employment contract.
For example, a company contacted an applicant on January 1. The applicant was hired on January 20. This applicant's time to hire was 20 days.
Time to fill begins measuring at a point determined by the company. It could start when a job ad runs, or when an official request to fill a position has been granted.
For example, a company posts a job ad on January 1 and an applicant is hired on February 20. The time it took to fill the position was 51 days.
One can calculate the average time to fill and time to hire and then compare them to see what is working in the process and where improvements can be made. Ideally, a company's time to fill and time to hire will be quite short.
Average Time to Hire Formula:
Average Time to Hire = Total time to hire ÷ Number of hires
Example:
A company employed 3 people in 2018. It took 20 days from the first contact to hire the first person, 30 days to hire the second, and 10 days to hire the last.
Average Time to Hire = (20 + 30 + 10) ÷ 3
Average Time to Hire = 60 ÷ 3
Average Time to Hire = 20 days.
You can see that the company's time to hire in 2018 was 20 days.
Average Time to Fill Formula:
Average Time to Fill = Total time to fill ÷ Number of hires
Example:
A company employed 4 people in 2018. It took 50 days from when the job ad was first posted to hire the first candidate, 30 days to hire the second, 20 to hire the third, and 40 days to hire the last.
Average Time to Fill = (50 + 30 + 20 + 40) ÷ 4
Average Time to Fill = 140 ÷ 4
Average Time to Fill = 35 days.
You can see that the company's time to fill in 2018 was 35 days.
Calculating quality of hire.
Quality of hire measures the value an employee brings to a company. It can only be calculated once a new employee has worked at the company for a while.
Companies measure their QoH using a mix of variables or indicators. There are dozens, but here are a few popular indicators:
Performance: quantifiable outcomes reached.
Fit: how well an employee fits in with the rest of the company.
Ramp-up time: the time it takes a new employee to start performing optimally.
Promotion rate: how often an employee is promoted.
Engagement: the level of interest and initiative the employee shows.
Pre-hire metrics: scores from screening tests, number of referrals, etc.
Each company chooses which indicators to use for calculating QoH. You can use as many as you can find reliable data for. The formula for calculating QoH doesn't change.
Quality of Hire Formula:
QoH = (indicator 1 + indicator 2 + indicator 3 + ...) ÷ number of indicators
Example.
One of your new employees has been at the company for a year. You did a performance review, for which the employee scored 75%. You had managers and colleagues answer a 360 survey, the results of which suggest the employee is an 89% fit in the company and 79% engaged. And you checked the employee's pre-employee test scores, for which they achieved 95%.
QoH (%) = (75 + 89 + 79 + 95) ÷ 4
QoH (%) = 338 ÷ 4
QoH = 84.5%
You can see that your QoH for your new employee is 84.5%.
More Recruitment Resources:
FAQs:
What is the process of recruiting?
Which comes first selection or recruitment?
Selection is a part of recruitment. Recruitment is made up of job analysis, sourcing, screening, onboarding, and monitoring.
How can recruiting be made more effective?
Thorough job analysis forms the foundation for effective recruiting.
Building an employer brand is essential for attracting potential employees.
The entire hiring process must be a good experience for candidates.
A more targeted approach to recruitment marketing will reach ideal candidates more effectively.
Monitoring the hiring process is essential for finding where improvements can be made.
What are the types of recruitment?
Employer branding.
Promotion and marketing of vacancies.
Social media recruiting.
Recruitment events.
Internships.
Employee referrals.
Why effective recruitment is important?
Finding the perfect candidate for a position and new talent retention aside, effective recruitment saves time and capital, and it builds a company's employer brand.
What are the sources of recruitment?
Job boards.
Publications.
Social media.
Networking events.
Job fairs.
Career days.
Employee referrals.
Direct recruiting.
Company career pages.
Information sessions.
Internships.
Job sites.
Expert panels.
Web search.
Recruitment software.
What are the best recruiting strategies?
Build a clear employer brand.
Define the ideal candidate and then target recruitment efforts at them.
Use social media.
Set up a user-friendly and informative career page on your website.
Put in place an employee referral program.
Work on getting job ads right.
Consider niche and regional job boards.
Invest in recruitment software applications.
Monitor your hiring process and make improvements where needed.
How do recruiting companies work?
Companies pay recruiting companies to fill vacancies. The recruiting companies then analyze the vacancies, source potential candidates for the vacancies using a variety of methods, conduct screening tests and interviews, and then submit those candidates that best fit the requirements of the vacancies.